National parks must be for people, plants, pumas - not Big Oil (David Hill/Andes to Amazon/The Guardian)
22 Août 2016 , Rédigé par Pierre-Olivier Combelles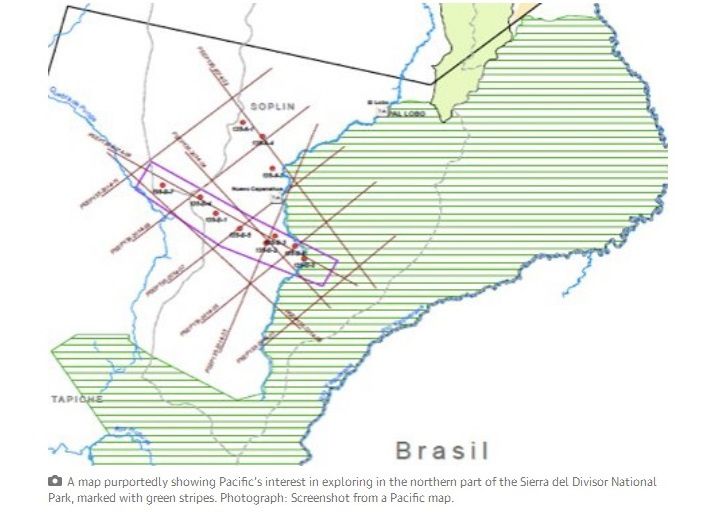 The creation of the 1.3 million hectare Sierra del Divisor National Park in the western Amazon in November 2015 generated considerable elation and Peruvian and international media coverage. Logging, gold-mining, coca cultivation and narco-trafficking were highlighted by some media as ongoing threats to the new park, but why such failure to acknowledge what is possibly, in the long-term, the most serious threat of all?
The sorry, alarming fact is that approximately 40% of the park is superimposed by an oil and gas concession run by a Canadian-headquartered company, Pacific Exploration and Production. This is despite Peru's 1997 Law of Protected Natural Areas stating "the extraction of natural resources is not permitted" in parks, while 2001 regulations on Protected Natural Areas state "the exploitation of natural resources is prohibited." In addition, Peru's 1993 Constitution "obliges" the government "to promote the conservation of biological diversity and protected natural areas."
(...)
Recent public statements in Peru make it clear that the Sierra del Divisor National Park is far from the only national park that the government and oil and gas companies are eyeing. Newspapers El Comercio and Gestion reported that the government, under new president Pedro Pablo Kuczynski, will "revise" the 1997 Law on Protected Natural Areas in order to promote oil and gas operations, while the president of Perupetro said in an interview with Gestion on 10 August that laws must be changed to permit operations in part of the Bahuaja Sonene National Park in particular and in "reserved areas" in general. Following that came a statement by the Peruvian Hydrocarbons Society calling for legal changes and claiming oil and gas operations are "compatible" with "protected natural areas", and then an interview on Peru's most popular radio station, RPP, with the new Environment Minister, Elza Galazar, also talking up the compatibility of hydrocarbon operations with "protected natural areas."
The Sierra del Divisor National Park is considered a unique part of the Amazon basin and home to a tremendous range of flora and fauna, including jaguars and pumas.
Rainforest Trust did not respond to questions from the Guardian about the proposed zonification, but said instead that its work helps to protect "threatened tropical forests and endangered wildlife by partnering with local and community organizations in and around vulnerable areas."
"Our unique, cost-effective conservation model for protecting endangered species has been implemented successfully for over 25 years," says Rainforest Trust's Marc Ford. "Our partners work closely with their national governments and local communities to formally establish reserves protecting the land."
David Hill / Andes to Amazon / The Guardian
https://www.theguardian.com/environment/andes-to-the-amazon/2016/aug/21/national-parks-people-plants-pumas-big-oil
Partager cet article
Newsletter
Abonnez-vous pour être averti des nouveaux articles publiés.